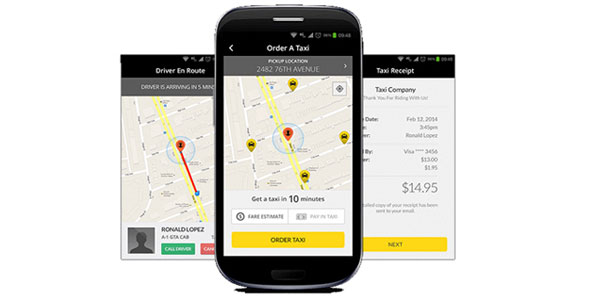 Track Your Taxi
At GTA Cab, we pride ourselves on being on the cusp of modern technology and innovation. We believe in delivering a superior experience to our customers each and every time, and to that end, we've integrated GPS technology within our entire fleet of vehicles. This allows you to track your GTA taxi wherever it might be.
GTA Cab has partnered exclusively with GATA Labs to bring customers state of the art dispatch and app services. Tap & book safe, reliable cab, anywhere, anytime!
Why GPS?
Why should you be concerned with GPS tracking for your Toronto taxi? Simply put, it allows you to save time, relax and enjoy considerable peace of mind. How often have you arranged for a taxi, only to wait on pins and needles for the driver to arrive? How many times have you had to reschedule events or been late because you did not know where your taxi was and how long it would take to arrive?
When you arrange for a GTA taxi with GTA Cab, you no longer have to worry about those problems. In addition, you'll always know where you are in route, providing even more peace of mind. It's simpler than ever to let clients, friends and family know where you are and when you'll arrive.
Our GPS smartphone app offers a very wide range of features and benefits for customers, including the following:
Locate available cabs right from your app, or call the office or use our online form to arrange for transportation.
Track your driver's location in route to you, as well as the estimated arrival time.
Track your location during transport, as well as the arrival time at your destination.
Rate your driver and your experience with GTA Cab right from your smartphone.
Contact us today and enjoy your trip with our courteous, safe drivers. We serve across Caledon, Bolton, Woodbridge, Vaughan, Thornhill, King City, Nobleton Kleinberg, York region.